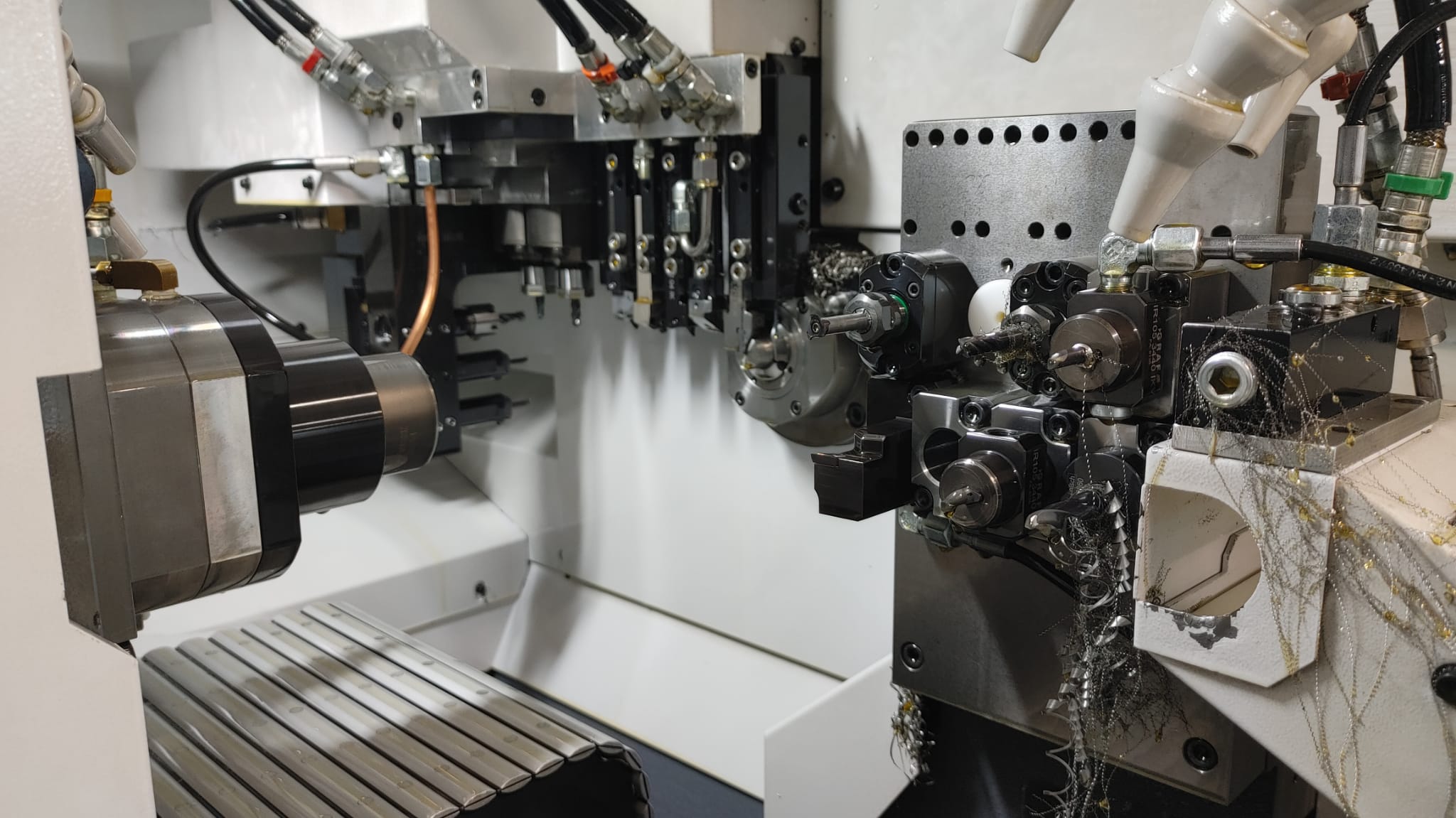 Machining technology
Everything in one building to make a perfect product.
Our company makes full use of Citizen Cincom CNC long-turn machines (Swiss type). As these machines can also be used to carry out milling operations, complex products can be produced in a fully automated, man-arm and man-independent manner.
In combination with the large number of available cutting tools in these machines, accurate and complex products can be realised. We specialise in the production of products made from technical plastics and high-grade metals in various qualities, in dimensions from small to very small. Read < 25mm up to 0.2mm, often in large series. We have a workshop with modern machines and the latest machining techniques. Of course, our measuring room is equipped with the necessary accurate (automated) measuring machines to meet high product specifications and to continue to guarantee these.

More information about CNC technology
Our Sodick ALC600G wire EDM machine is actually too large for the size we are used to producing. But the advantage of this space is that we have several jigs lined up ready to go to meet customer needs quickly. We have also installed a zero point system in the machine with the same underlying idea, for, among other things, making our own (clamping) tools to be able to seamlessly incorporate products into our machining machines or measuring instruments. This gives great flexibility.
Explanation of Electrical discharge machining
For cleaning the products, we prefer to use the cleaning machine based on modified alcohol with ultrasonic cleaning technique under high vacuum. Because of the tilting mechanism, we can remove all loose small chips and contaminants. Even deep and hard-to-reach (blind) holes are cleaned in this way. Various machine programmes are available for this and we can clean up to 'grade 4'.

All products are cleaned in this way. The modified alchohol is recovered and reused in a closed system. The products are dried in the cleaning machine so that no alcohol is lost and they can be packed immediately after opening the machine.

Both tactile and vision measurements are performed at Innostrument. Most of the products are so small that only with gathers the right measurements can be done. Therefore, there is often (automated) vision measurement. An additional advantage is that this is contactless, which prevents any clamping damage or minute impressions of the measuring pen. Surface roughness measurements on small products are also possible.

With Mitutoyo's software programs QVPak and Formtrace complex contours of products can be measured fully automatically on the Quick Vision. The SQL database of Measurlink processes this data, if necessary together with other measuring stations -including Keyence microscopes- into a combined over-all measuring report. By linking these data, the production process can be fully monitored at any time.
An additional advantage of the Measurlink software is that it also stores all measuring equipment in its database, so that a signal is given in good time that a measuring equipment needs to be calibrated again. In this way, we ensure the valid use of measuring instruments.

Fourth Industrial Revolution

To ensure the quality of the products, we use a product tracking system that was developed in-house. The core of this system revolves around sharing the right information in the right place at the right time with all those involved. This can mean, for example, that Quality Control releases production after checking the first product and that the operator is informed about this in real time.
But also revision management or sharing the various measurement values. The traceability of not only material certificates but also, for example, all measuring equipment used with the corresponding measurement results and people who worked on the product is recorded and shared. In short, this means that from purchase to delivery, all actions are recorded using an accessible tracking system. In the unlikely event that a deviation is found or important points of attention are required, this is linked to the product file in real time. In this way, everyone is quickly informed of changes and the system has a self-learning capability.
All modern production machines are read out so that work preparation has real-time insight into how many products are produced. In this way, tool-life management indicates when tools need to be replaced in order to prevent downtime due to wear or breakage.

Explaining Industry 4.0 / Smart Industry
Making an appointment
Innostrument does not have a service desk. Visits by appointment only. For technical questions, please use the contact form.
CONTACT DETAILS
Latest machining techniques
Innostrument works with the newest machining techniques. The LFV technique is a valuable addition to our production process for realising high quality products.
More